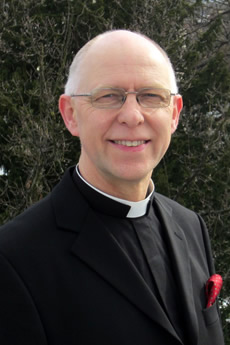 Comfort my people
Dear Friends,

Today, on Advent Sunday, I would normally be looking forward to our Advent Carol Service by candelight tonight. While, however, the present lockdown prohibits our usual celebration, nevertheless the Advent message proclaimed in our first reading rings ever loud and clear, "Comfort, O comfort my people".

While these words were originally addressed to a naughty and rebellious lot sitting in exile in Babylon, the message is relevant and rings true for every generation: God is the great Rescuer, who drives a road through the wilderness, even levelling mountains and valleys to reach his people; liberate, save them and lead them out from peril and darkness to home and safety. Almost in the same breath, Isaiah pictures God as a Shepherd feeding his flock, gathering the lambs in his arms, carrying them in his bosom, and gently leading the ewes.

Such images, of course climax in the life of Jesus of Nazareth. Jesus shows us Godís heart. Jesus is the Good Shepherd: his love, care and compassion reaches out to the sick and distressed; the criminal, sinful and wayward; the isolated and marginalized; the poor and unemployed; the sad and bereaved. Moreover, in Jesus, God identifies with us in our weakness, fully doing so in his death. God knows our human frailties because in Jesus heís already been here and feels them still. So, when we turn to him for help, we can be sure he understands and know he is with us, with his care and his comfort.

The efficacy of medication, and the promise of vaccines to combat coronavirus are surely an answer to prayer. So too are the dedication and expertise of NHS staff and others, both public servants and volunteers. That said, we all face a difficult winter which will make exceptional demands on our personal, community and national resources. Naturally, we must pray.

But how might God answer our prayers? That, of course, will be unique to every individual person and community. First, we can know the love and presence of God in prayer. But God want everyone to know his love, presence and comfort. But how?

God so often, and most likely, will use ordinary human beings like us to put flesh on good intentions, and to put care into action,. St Teresa of Avila famously wrote:

| | |
| --- | --- |
| | "Christ has no body now but yours. No hands, no feet on earth but yours. Yours are the eyes through which he looks with compassion on this world. Yours are the feet with which he walks to do good. Yours are the hands through which he blesses all the world. Yours are the hands, yours are the feet, yours are the eyes, you are his body. Christ has no body now on earth but yours." |
In short, how may we, how may I bring Godís help and comfort to someone else this Christmas? Who do I see, who do I know, who is lonely, afraid, unwell, feeling isolated or marginalized and needing to know the love of Jesus? Is there something I can do for them, maybe a phone call, or am offer to do the shopping. I know that many in our congregation already all this and much more. May God bless you for it! May I also add that such kindness shown to me in my recently imposed isolation in the Vicarage was greatly appreciated: thank you!

"Comfort my people" is not an option for Christians, it is a command. In the much-loved film musical, My Fair Lady, the love-struck Freddy pleads his love for cockney flower girl Eliza Doolittle. She rebuts him, "Words! Words! Words! I'm so sick of words! I get words all day through; First from him, now from you! Is that all you blighters can do?...If you're in love, Show me!"

|Lets show the world Jesusí love. Maybe then the world will take Him (and us) seriously.

With my prayers and good wishes for a very happy, safe and blessed Christmas to you all,

Fr Kevin.